Events
Please find event listings below. For more information please contact the named contact or the Khanqah.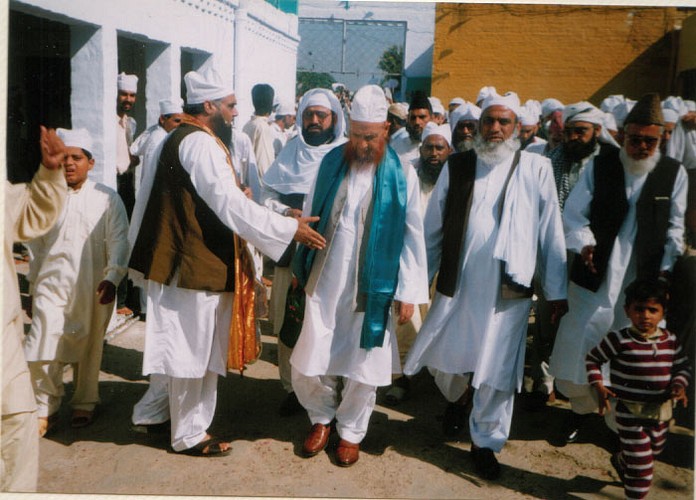 Above: (1997) Hazrat Khwajah Pir Sufi Mohammed Aslam Sahib

attending the Urs of
Zareen-Zarbakht Hazrat Khwajah Sufi Nawaab-uddin Sahib

at Darbar Mohry Sharif, Punjab, Pakistan.
Annual Urs in Pakistan
The Annual Urs Mubarak and Milad un-Nabi Celebrations take place on 12th April every year at Darbaar-Aalia Naqshbandiyya Mujaddidiyya Aslamiyya Shadpur Shareef.
47th Annual Mawlid un-Nabi SAW and Urs Mubarak, Luton 2021
Insha'Allah we are pleased to announce the 47th Annual Gathering celebrating Eid Milad-un-Nabi ﷺ and Urs Mubarak gathering of our Beloved Shaykh, Hazrat Khwaja Sheikh Sufi Muhammad Aslam Naqshbandi (Q) under the supervision of Hazrat Khwaja Shaykh Sufi Riaz Ahmed Aslami (MZ) on Sunday 12th September 2021 2pm at Luton Central Mosque Ghousia, 2-12 Wesbourne Road, Luton, LU4 8JD.
Special guest speaker: Hazrat Allama Pir Mufti Muhammad Khurshid Alam Sabri Sahib, Markazi Jamia Masjid Keighley.

Gathering will be livestreamed on http://youtube.com/naveedsounduk Sunday 12th September 2021 2pm UK, 3pm Europe and 6pm Pakistan
Event organised and hosted by Hazrat Khwaja Shaykh Sufi Muhammad Hanif Aslami and Naqshbandia Aslamia Luton.
Contact admin or local dost for more details.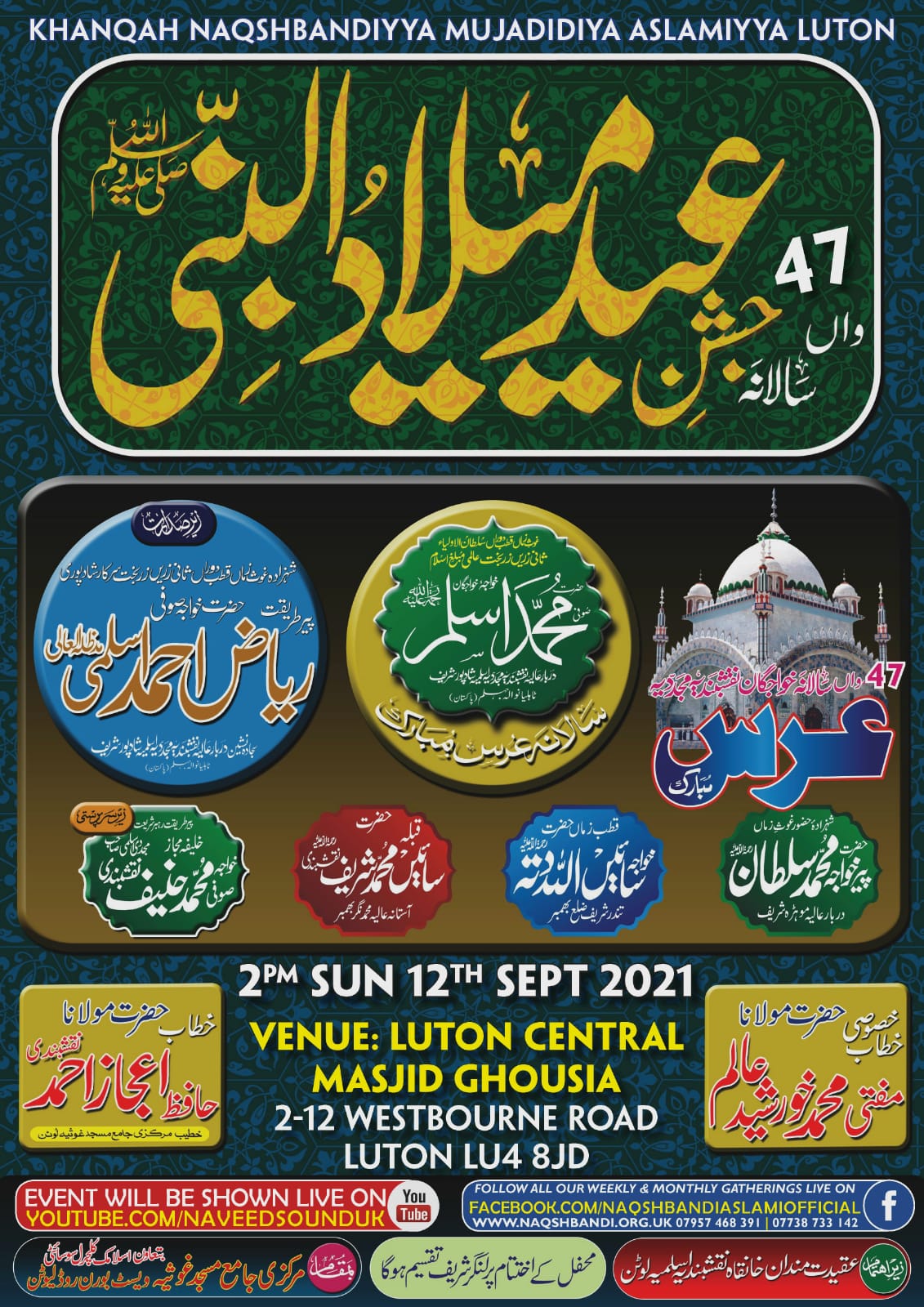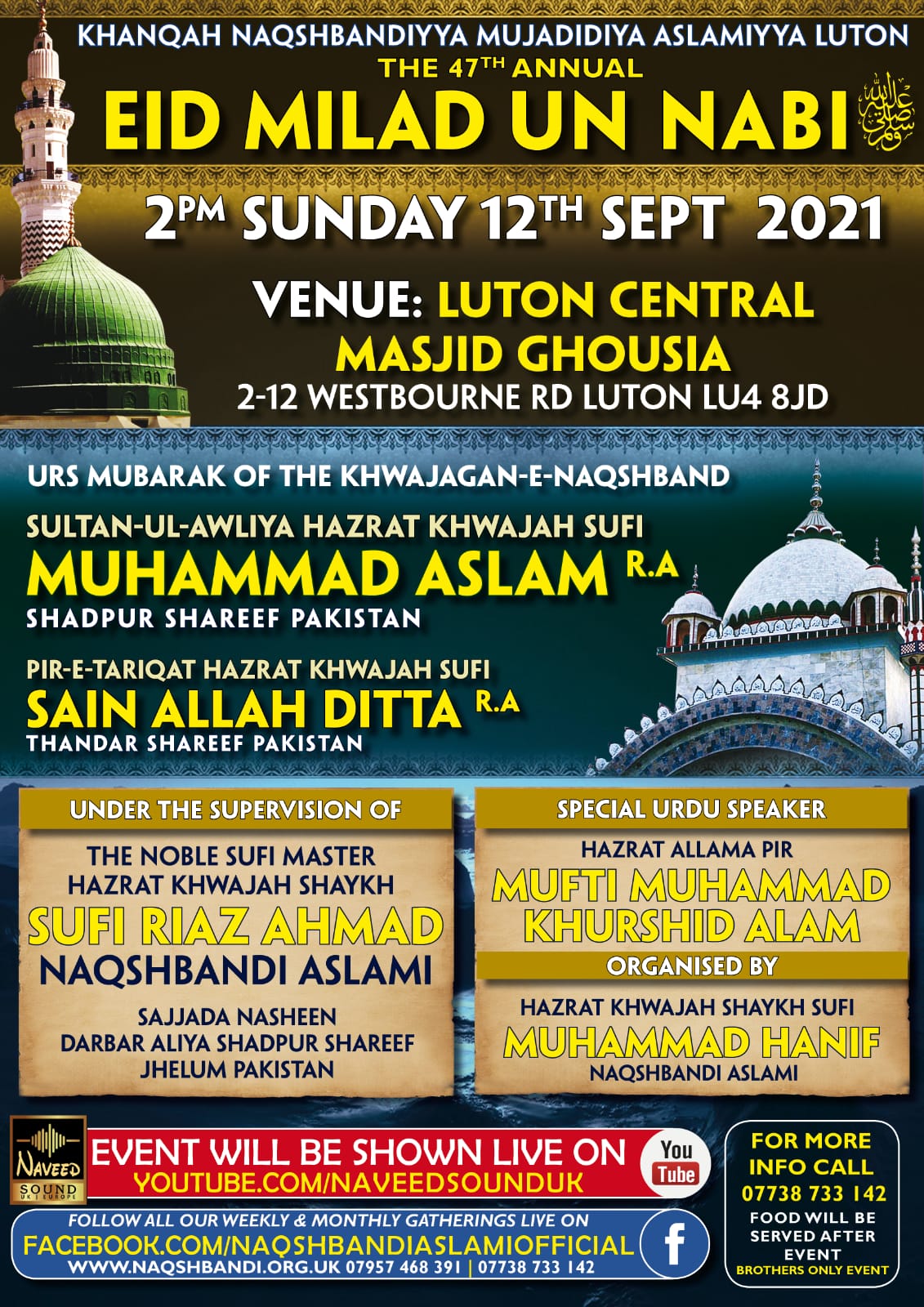 Events in the United Kingdom 2021
NOTE: Unless otherwise indicated all events are being held virtually.
| | | |
| --- | --- | --- |
| DATE | LOCATION | CONTACT |
| Sunday 11th July 2021 | Bradford BD8 | Sufi Tahir Aslam Sb |
| Sunday 1st Aug 2021 | Markazi Annual Milad un Nabi (SAW) & Urs of Sultan ul-Awliya (Q) | Blackburn |
| Sunday 15th Aug 2021 | Peterborough | Sufi Muhammad Awais Sb Aslami |
| Sunday 12th Sep 2021 | Luton | Naqshbandiyya Aslamiyyah Luton |
| Sunday 17th Oct 2021 | Bolton | Khwaja Sufi Muhammad Mushtaq Aslami |
Weekly Events in UK
Details of weekly gatherings of zikr can be found below. If you would like to add your circle to this list please contact us
Blackburn
Mehfil-e-Zikr at Markazi Darbaar Shareef, Naqshbandiyya Aslamiyya Spiritual Centre every Sunday after Zuhr (see flyer below). Contact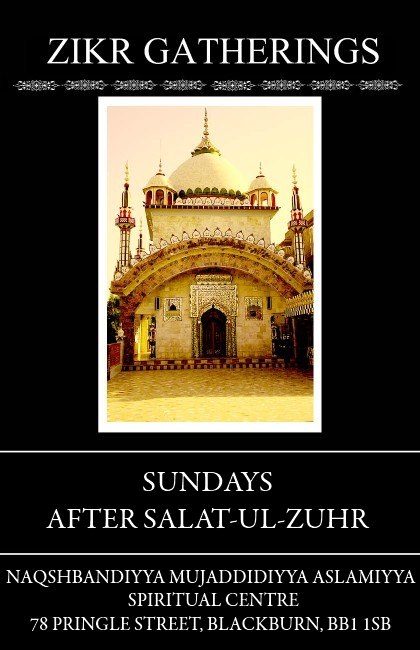 Luton
Mehfil-e-Zikr at the Luton Khanqah every Saturday evening at 5pm. On occasion the timing of the Mehfil is subject to change. Contact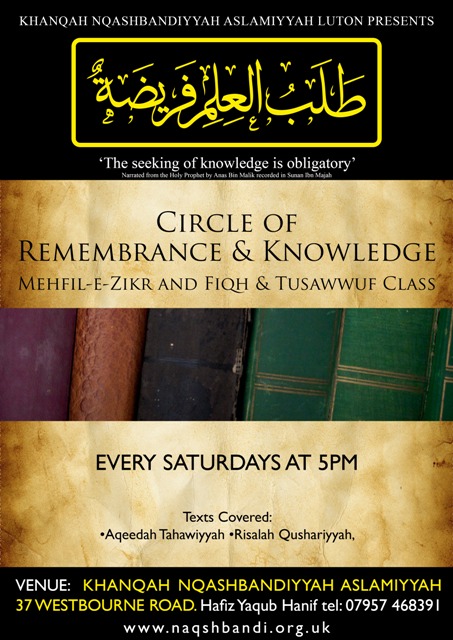 Bradford
Mehfil-e-Zikr every Thursday evening at Jamia Masjid Millat-e-Islamia, Ivanhoe Road, Bradford BD7 3HY. Under the supervision of Hazrat Khwaja Shaykh Riaz Ahmed Aslami, Sajjada Nasheen Darbar Alia Shadpur Shareef. For more information please contact Sufi Syed Naveed Shah Sb on 07463217721.