Events
Please find event listings below. For more information please contact the named contact or the Khanqah.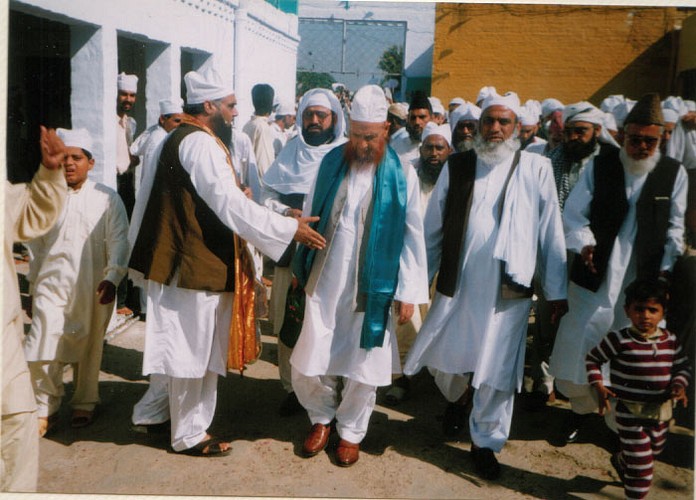 Above: (1997) Hazrat Khwajah Pir Sufi Mohammed Aslam Sahib

attending the Urs of
Zareen-Zarbakht Hazrat Khwajah Sufi Nawaab-uddin Sahib

at Darbar Mohry Sharif, Punjab, Pakistan.
Annual Urs in Pakistan
The Annual Urs Mubarak and Milad un-Nabi Celebrations take place on 12th April every year at Darbaar-Aalia Naqshbandiyya Mujaddidiyya Aslamiyya Shadpur Shareef.
Events in the United Kingdom 2017 / 2018
DATE
LOCATION
CONTACT
Sunday 28th Jan 2018
Keighley
Khwaja Sufi Abdur Rasheed Sb & Khwaja Sufi Dr Amjad Mahmood Sb Aslami
Sunday 6th May 2018
Jamia Masjid Naqshbandia Aslamia, 63 Tile Street, Bradford, BD8 8NX
Shaykh Sufi Amjad Aslam Sb
Sunday 13th May 2018
Jamia Masjid Ghousia, 2-12 Westbourne Rad, Luton LU4 8JD
Naqshbandiyya Aslamiyyah Luton: 07957468391
Sunday 22nd July 2018
Jamia Masjid Faizan-e-Madina,

175 Gladstone St, Peterborough PE1 2BN

Sufi Muhammad Awais Sb Aslami
Sunday 29th July 2018
Leeds
Khwaja Sufi Arshad Mahmood Sb Aslami
Sunday 5th Aug 2018
Jamia Masjid Naqshbandia Aslamia, 556 Washwood Heath Road, Birmingham, B8 2HF
Khwaja Sufi Arshad Baig Aslami and Sufi Zafar Baig Aslami
Sunday 11th Nov 2018
Markazi Annual Milad un Nabi (SAW) & Urs of Sultan ul-Awliya (Q)
Blackburn
Sunday 21st Oct 2018
Jamia Masjid Ghausia, 15 Birchills St, Walsall, WS2 8NF
Sufi Javed Akhar Sb
Weekly Events in UK
Details of weekly gatherings of zikr can be found below. If you would like to add your circle to this list please contact us
Blackburn
Mehfil-e-Zikr at Markazi Darbaar Shareef, Naqshbandiyya Aslamiyya Spiritual Centre every Sunday after Zuhr (see flyer below). Contact